About Faisal Movers:
Faisal Movers is one of the greatest transportation benefits in Pakistan which is known because of various assistance types, reasonable admissions and 24 hours transport tasks. The wide system makes it among the main transportation administration in Pakistan. Faisal Movers is offering its types of assistance since 2004, when the administration was initiated with a solitary transport and from single course among Sargodha and Multan yet inside limited capacity to focus time it got one of the greatest vehicle suppliers in the nation with one of the most current armada.
Presently every month in excess of 500,000 travelers like to go with FM Express which mirrors its greatness in administrations.
A feature which differentiates between Faisal Movers and other transportation services is the multiple services such as Standard, Executive and Business Services. The ticket prices & rates are different for these basic and luxurious services.
Executive Plus: These buses can be called semi business buses as they have front 9 seats of Business category and rest of the seats are Executive. Multimedia Tab are available at the back of every seat.
Business: Last but no the least they have Business buses which are 30 seater luxurios buses in town with massager seats, lavish refreshment and Latest entertainment system.
Standard: This bus type has Daewoo 116 buses with 45 seats.
Executive: Executive buses are rather 40 seater buses or having Latest VOD system installed on the back of every seat.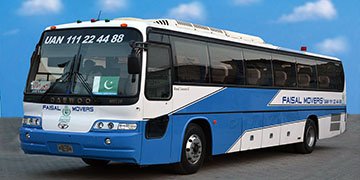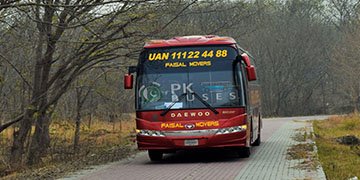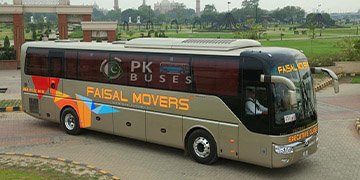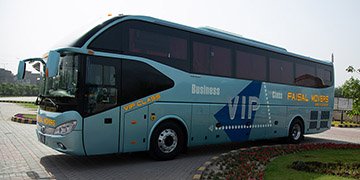 Faisal Movers Top Operating Routes
Online Ticket Booking System
Faisal Movers depends an outsider site www.bookkaru.com for its web based ticketing which gives numerous urban areas to ticketing. Bookkaru has andriod and IOS applications available on thier stores.
To help the travelers Faisal Movers has propelled web based booking through 'bookkaru'. Simply visit the site www.bookkaru.com and select the date, departure and destination to know accessible alternatives from Faisal Movers. Now choose the service, select the seats and continue for booking through accessible options (Easypaisa, jazzcash and Credit, debit cards).
Currently online booking is available only for:
Lahore , Islamabad, Murree, Peshawar, Sargodha, Multan, Bahawalpur, Dera Ghazi Khan, Taunsa Sharif, Alipur, Rajanpur, Rahim Yar Khan, Sadiqabad, Sukkur, Hyderabad, Karachi
Subsidiaries of Faisal Movers